I'm happy to offer assistance and guide my clients. Let us help you!
Find details at the TSAHC website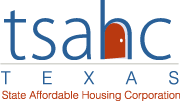 TSAHC also provides an annual tax credit to qualifying first-time homebuyers through the issuance of a Mortgage Credit Certificate. With an MCC, the qualified homebuyer is eligible to write off a portion of the annual interest paid on the mortgage as a special tax credit, up to $2,000, each year that they occupy the home as their principal residence. An MCC has the potential of saving the homebuyer thousands of dollars over the life of the loan. Homebuyers qualifying for the MCC Program can also take advantage of our down payment assistance programs.
Mortgage Credit Certificates

) allow qualifying individuals to purchase a home.
open to individuals that are not part of the previous categories
, peace officers, veterans, and low and moderate-income homebuyers. The Homes for Texas Heroes and Home Sweet Texas Loan Programs (fire fighters rate loans with down payment and closing cost assistance in the form of a grant (meaning no second lien) to teachers, low interestTSAHC provides
Fixed Rate Loans with Granted Down Payment Assistance
TSAHC). They are a 501(c)(3) nonprofit organization that was incorporated in 1994. TSAHC relies on a network of participating lenders to assist deserving clients. They offer a variety of options. To name two;
(
Texas we have the Texas State Affordable Housing Corporation isThere are many eligible sources for down payment funding, including federal and local governments, nonprofits, employers and others. Here
, EMS personnel, veterans and low and moderate-income households. Their home buyer programs are open to first-time home buyers, as well as repeat home buyers and existing homeowners.fire fightersfor teachers, police officers, corrections officers,
mortgage credit certificates
and
own payment assistance grants
Are you ready to buy a home? The Texas State Affordable Housing Corporation (TSAHC) provides fixed-rate mortgage financing, d
, I am happy to support my clients with this wonderful program.
As an approved TSAHC Realtor